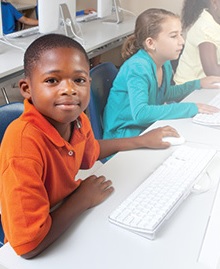 This spring, instead of the standardized testing system known as STAR, California school districts will administer new practice tests aligned with the Common Core State Standards as part of the new California Measurement of Academic Performance and Progress (CalMAPP) system.
The new assessments allow for a much broader range of test questions and allow school districts to try out their readiness to give computer-based assessments. Learn more about the big changes ahead in testing in this EdSource article. You might also speak to your child's teacher and principal about how your district is handling the shift to these new assessments.
Common Core State Standards
California State PTA has some great materials, including the "Parents' Guide to Student Success," to help you find out what your child will be learning at each grade level, in Mathematics and English Language Arts, once the new Common Core State Standards are in place. We are pleased to announce that the California Department of Education is now a co-sponsor of these valuable guides.
To download the "Parents' Guide to Student Success" or to learn more about Common Core State Standards and the new assessments, click here.