REFLECTIONS UPDATE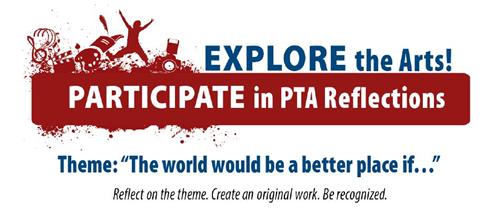 The deadline to submit Reflections entries to Tenth District is Monday, January 5, 2015. (You can bring them to the district by December 19th, if that is more convenient.) Five (5) entries in each art category (literature, music composition, photography, visual arts, dance choreography, film production) from the grade divisions PreK-2 and 3-5, special artist and eight (8) entries in each art category from the grade divisions 6-8 and 9-12 may be forwarded to Tenth District from each participating unit.
When forwarding entries, be sure that:
Entries meet the criteria/rules for each category.

Student entry forms are fully completed, signed by student and parent and attached to each entry.

Consent forms are completed, signed and included for any individual whose image appears in the student's photography, dance choreography or film production entry.

A master list is included with the correct spelling of the student's name, grade and category for each entry.

Entries are carefully packaged.

The chairman fills out the Local PTA Unit Registration Form, which is located at capta.org/reflections under the Chairman Resources section and at tenthdistrictptsa.org under Reflections Program Resources in the Forms section. This Unit Registration Form asks for the unit's legal (official) name, 8-Digit ID number, school address, principal's name, etc., chairman's name, etc., the number of students enrolled in the school, the number of students participating in Reflections by grade division in each of the six arts categories, etc.
The Tenth District office will be closed from December 22 to January 2. Regular office hours are 7:30am to 4:00pm, Monday through Friday. If you have questions or need assistance, call the district office at 213-745-7191 or Mary Ann Garvey at 310-472-0163.
The Tenth District Reflections Committee will meet Tuesday morning, January 6, to prepare the entries for the district judges. Judging will begin Wednesday, January 7. The four entries in each art category, selected by our judges to forward to the California State PTA, must be in Sacramento by January 15. The judges will also select entries for Award of Excellence, Award of Merit and Honorable Mention recognition.
The Tenth District Reflections Exhibit will be held on Sunday, March 1, from 1:00 P.M. to 4:00 P.M. in the auditorium at Tenth District. All entries selected by the Tenth District judges for recognition will be displayed in this exhibit.